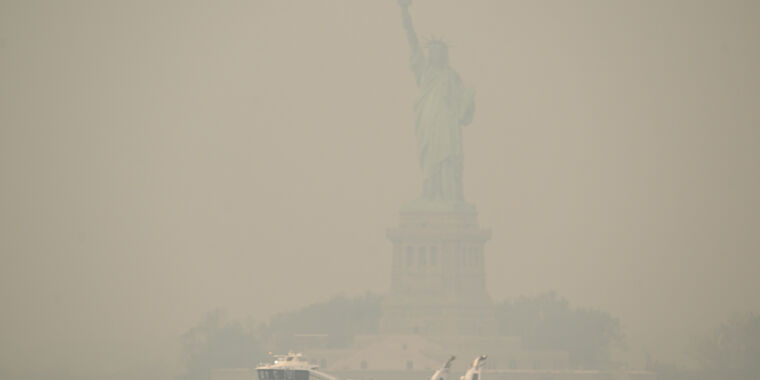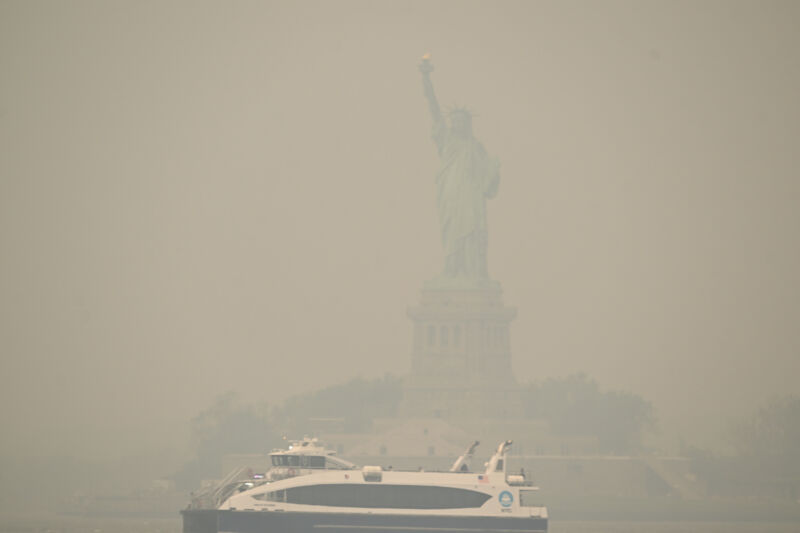 2:45 pm ET Update: Air quality along the Atlantic Coast of the United States, and particularly in New York City, worsened substantially on Wednesday due to smoke from Canadian wildfires being transported south by atmospheric currents.
Webcams and images of the New York region showed the city essentially disappearing behind a wall of smoke and haze, with orange skies. The air was so choked with wildfire particulates on Wednesday afternoon that the city turned on its streetlights at 2 pm ET, at a time when the Sun is almost directly overhead.
As of 2:44 pm ET, the IQ Air website measured New York's Air Quality Index at 342, far above the threshold of 301 denoting "hazardous" air quality. The large city with the next-worst air in the world, Delhi, India, had a rating of 168 at the time. Flights were delayed into, and out of, La Guardia and Newark airports on Wednesday afternoon due to the prevalence of smoke and haze reducing visibilities.
The air quality in other parts of the state, such as Syracuse, was even worse. New York state health officials were warning residents "to think very carefully" about going outdoors, the New York Times reports. Residents were encouraged to wear masks and get their inhalers refilled, as the haze could exacerbate asthma and increase the likelihood of contracting a pulmonary infection.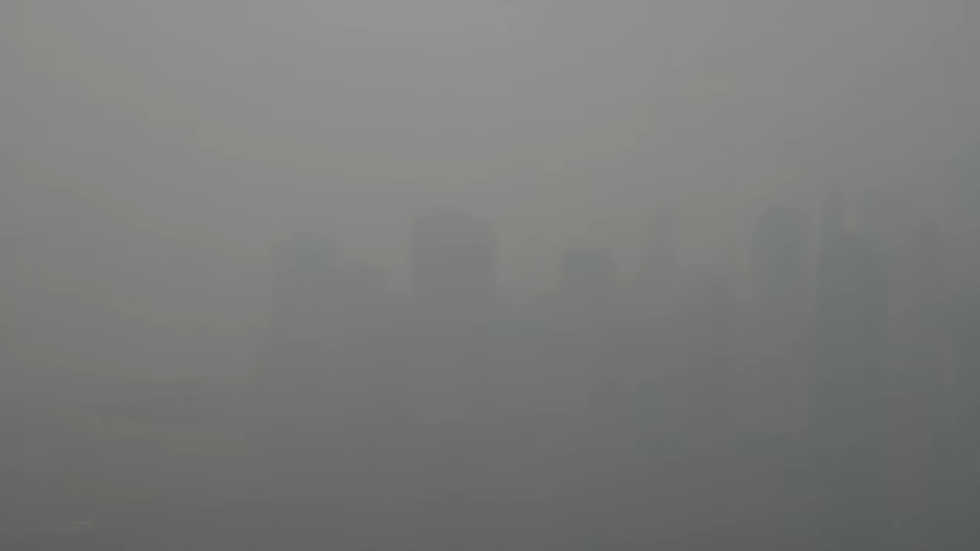 Original post: There is nothing new about Canadian wildfires in the spring and summer, but what is extraordinary about this year's fires is that so many are active in Quebec, the country's largest province. Typically wildfire season in Canada affects mostly western provinces, such as Alberta.
However, this year nearly half of the 423 active wildfires in Canada are in the eastern part of the country, according to the Canadian Interagency Forest Fire Centre. Many of these fires are located within a few hundred kilometers of the border with the United States, and with a northerly flow in place, the smoke and haze have swirled down into the Eastern United States.
The effects have been profound. On Tuesday, for a time, IQ Air ranked New York City as having the worst air quality in the world, above cities like Delhi, India, and Dhaka, Bangladesh. As of Wednesday morning, New York only had the second worst air quality in the world. On a normal day, it would not rank among the top thousand cities.
Such air, with small particles, is unhealthy. Officials and physicians in New York City have urged residents to remain indoors or wear a mask if they venture outside. For people who are outdoors for an extended period of time, there are serious respiratory issues and other health concerns, physicians said.
Air quality problems on Wednesday are likely to be worse farther south in the United States, in areas such as New Jersey and the District of Columbia, due to prevailing wind patterns. A low-pressure system over the northern Atlantic Ocean is driving a northerly flow of winds over Canada and down into the United States.
Models of smoke patterns, vertically integrated through the atmosphere, suggest that this flow will reach its greatest extent on Wednesday and Thursday, with the Mid-Atlantic states seeing the worst effects then. Major cities at risk include Philadelphia, New York, and Washington, DC. Overall the effects could be widespread, with smoke and haze trailing as far south as into the Carolinas.
The overall wind pattern should begin to shift toward the weekend, pushing more of the smoke and haze offshore into the Atlantic Ocean. This should provide some relief to the Eastern United States.
So far, in Canada, about 10,000 residents in Quebec have been forced to evacuate due to these wildfires, and nearly 100,000 acres have been burned to date. Overall, the Canadian wildfires observed this year have set records for their extent and duration. A total of more than 125,000 people have been forced to evacuate.
The fires have been exacerbated by dry and hotter-than-normal conditions this year. Climate scientists say these more intense and extended wildfire seasons will become more likely as the planet warms and droughts worsen.